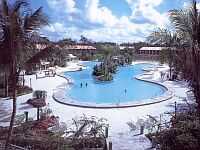 Swimming Pool



FALLING WATERS villas, apartments, and condominiums are all roomy and tastefully furnished and are located either in the first or second floor: 2 bedrooms (sleeps 4), 2 bathrooms are minimum, occupancy with 4 or more persons. All houses are located in a nice park landscape. FALLING WATERS (Central) has a huge, nice, heated swimming pool (11200 Sq.Ft. of Water) with islands of palms. It is the

second largest pool

in Florida. It has a lot of amenities: deck-chairs, sun roofs and palms give shade, restrooms, showers, lifeguard, club house (5000 Sq.Ft., air-conditioned, kitchen, dance floor), library; next to the pool are two tennis hard courts freely available. All these facilities are free. Although not necessary in Naples: Our community is 24 h security gated. An only 10 minutes ride by car and you'll be at the beaches (Gulf of Mexico).
NOTE: Each property is individually owned or managed.

---
Arrival information: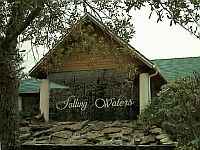 Club House

Car necessary
By car from Miami to Naples: 107 miles
By car from Fort Myers to Naples: 34 miles
By car from Interstate (I-75) to FALLING WATERS: 3 miles


Abbreviations:
Falling Waters (Central) is divided in a couple of residential areas:

C = Cascade (Garage)
R = Rose Wood (Carport)
W = Water Crest (Garage)
O = Orchid Falls (Carport)
J = Jasmine Court (Carport)
M = Magnolia Cove (Garage)
F = Magnolia Falls (Garage)
A = Amelia Lake (Garage)

Please, have a look at the map of Falling Waters.

---
Description from Fort Myers airport
Get free maps from your car rental at Ft. Myers Airport. Before your start read the following description carefully and check it with the maps. When you left the parking lot at your car rental you'll get on a huge road named DANIELS PKWY. Go West in direction to Ft. Myers. After crossing TREELINE DRIVE take left lane still on DANIELS PKWY, go "under" INTERSTATE 75, turn left (to SOUTH), and enter I-75 in direction to NAPLES. You go on I-75 in southern direction for 28 miles and have to leave the INTERSTATE at EXIT 101 (mile stone 102). Keep on right lane. After the first traffic light you'll get on SR-951. After 1000 feet on 951 (south) you'll see the second traffic light. Turn right onto 84 - that's the DAVIS BLVD. You are right if you see to your left (!) CEDAR HAMMOCK and NAPLES HERITAGE.
Go straight ahead on DAVIS BLVD, cross STANTA BARBARA BLVD and then you'll see on your left FALLING WATERS.

---
Map of Naples
Country Road 84 (DAVIS BLVD) makes the connection between Exit 101 of I-75 and the US-41 (TAMIAMI TRAIL). The cross on map marks the main entrance of FALLING WATERS.

---
Map of FALLING WATERS
CLICK on small picture to enlarge the map of FALLING WATERS. Later CLOSE large picture by clicking on (x). Be patient. Loading of large picture will take some seconds. But you will be surprised. The quality of the map is excellent. At the left border of the map (North) there is the main gate and the entrance from Davis Blvd.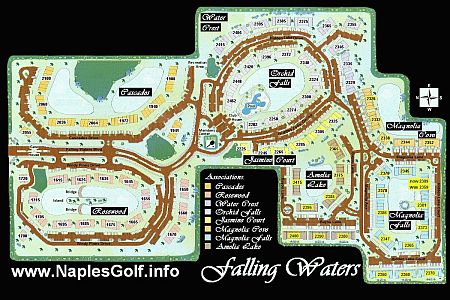 Map of Falling Waters. Click on map to enlarge. It's 360 kb big!

---
HELP / Frequently asked questions / FAQ:

---
Testimonials (for other testimonials look at HOME)
---
Hi Mr. Peters:
Thank you for your "after visit mail"! We were very satisfied with the apartment. It exceeded our expectations in all way! We are still talking of a revisit (the pool was unique!!). The area as such is definitely the next visit worth (much different from the east side of Florida). I can tell you that I have already promoted Falling Waters to several of my friends within the airline business!
Best regards and a happy X-mas
Oluf and Hanne Ewertsen from Denmark, November 2005.

---