Swimming Pool

Condo 6232 is in the second floor of a two-party-house in a quiet street of Winterpark. The condo is part of the houses, which are surrounding the pool. Each condo has a reserved parking lot but there are many guest parking lots available. Only 660 feet away there are the 6 tennis hard courts and 100 feet away there is the huge swimming pool. You just step out of your condo and there is an entrance of the pool! The picture (left) provide a view from the living room to the pool.

CLICK on picture to enlarge. Later CLOSE (x) large picture.


Living Room

The living room and master bedroom windows are faced to the East and pool side. (picture right). This condo is roomy and tastefully furnished: 2 bedrooms, 2 bathrooms, max. occupancy with 4 persons.
---
Living Room
Master Bedroom





Right picture: Master Bedroom.
Bed in Queen size.
There is a second TV.


---
Master Bedroom


Left picture: View into the Master bedroom.
Bed in Queen size.
Master bath room





Right picture: View into bath room of the master bed room.


---
Guest Bedroom


Left picture: View into the Guest bedroom. Two Twin Beds.
Guest bath room





Right picture: View into bath room of the guest area.


---
Kitchen


Left picture: Kitchen. Not visible: Morning area with table and 2 chairs.
Dining area





Right picture: View to the dining section of the living room.
---
Entrance


Left picture: Entrance from parking lot.

Screened lanai. Two chairs and small tables on lanai. Screen is faced to West. So you can enjoy the afternoon sun.
---

Furnishings
Total 1333 square feet
1 Bedroom (1 bed queen size)
1 Bedroom (2 twin beds)
1 Living room
2 Bathrooms
- 1 tub & shower
- 1 shower
- 1 Hair dryer
- 1 Elec. curler
1 Kitchen
1 Store room
1 Walk-In Closet
Air conditioning
Central heating
Telephone
Fresh Bed linen
Fresh Towels
Beach chairs
Beach umbrellas
Beach towels

4 Chairs DR
1 Dining table
2 Armchairs
2 Sofas
1 Coffee table
3 Cable TVs
Stereo system
Radio
CD-Player

Pass-Thru-Bar
Eat-In-Kitchen
- 1 table
- 3 chairs
4-burner stove
Oven
Refrigerator
Freezer
Ice maker
Dishwasher
Microwave
Coffee machine
Mocca machine
Blender
Juice squeezer
Hand blender
Toaster
Disposal
Washing machine
Clothes dryer
Cooking spices
Paper towels
---

Floor Plan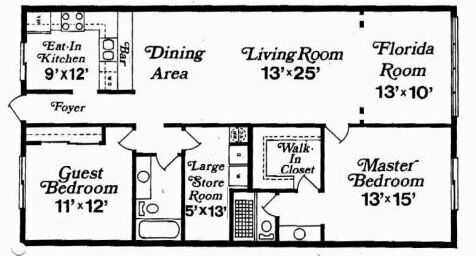 Floor Plan
---

Various
Large Swimming pool
6 Tenniscourts
Reserved Car park
No pets

Restaurant 3300 feet
Shopping 3300 feet
Pool 110 feet
Tennis 660 feet
Golf 2000 feet
Beach 3.5 miles
Location of condo in Winterpark
Top is North
---
Click here: Contact the Owner

Please CLICK on our vacation rental calendar (right) or CLICK HERE to get an overview.

But please in case of no availability send us an e-mail HERE. Our motto is: No Problem! We'll find a solution!

Availability Calendar


If you are interested in this calendar have a look HERE and get more information before you buy.

The owner takes care of this calendar

DAILY

! It is always

ACTUAL

.
---

Rental rates per day / property

Sorry, no privilegs on nearby Golf Course IRONWOOD.
Green Fee depending of season from 8 to 24 US Dollars.

| | |
| --- | --- |
| Click here | Please click on this Dollar bill to learn more about the rental fee and other costs. Keep in mind this UNIT number 6232. |

---